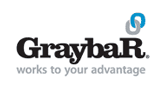 Job Information
Graybar

Warehouse Supervisor

in

Taunton

,

Massachusetts
Are you ready to make a difference?
Graybar is looking for talented, enthusiastic people to help us maintain the highest levels of customer satisfaction in every area of our business. We are a Company that recognizes talent and provides the opportunity for training and development for your career growth.
Purpose: * * Supervise assigned warehouse operations including staff, security procedures, equipment utilization, and Warehouse Management System (WMS) processes to meet or exceed zone/service center customer service standards.
Responsibilities: * * ** • Supervise and perform activities of employees engaged in loading, unloading, selection, packing, shipping, receiving, wire cutting, and inventory control; incoming and outgoing shipments; ensure efficient, accurate, and timely customer service to ensure zone/service center service goals are attained. May also be required to assist in these activities as needed. • Perform supervisory functions, including training and assigning work to two or more warehouse employees on a regular basis; make recommendations regarding staff transfers, promotions, wage increases, and terminations as necessary; arrange for additional help when needed. • Perform any and all physical requirements necessary to lift and move inventory around the warehouse. • Operate and maneuver warehouse equipment and any material(s) contained thereon in the manner consistent with the intended purpose of the equipment and the manufacturers' instructions. • Maintain equipment, safe working conditions, and security of merchandise and equipment; inspect loading operations to ensure compliance with shipping specifications, security, and direct movement of shipments from shipping and receiving dock to storage and work area. • Compile records of unshipped orders; post weight and shipping charges; prepare bills of lading, various reports; perform or oversee yearly inventory and daily cycle count; participate on the Zone/Service Center Steering Committee; expedite special projects.
Experience, Educational, and Physical Requirements:
• 2 years working in a Warehouse/Operations environment along with 1 year of supervisory/team lead experience. • Will perform the physical requirements necessary to receive, pick, pack, ship, and move materials throughout the warehouse, including, but not limited to, standing, walking, bending, twisting, stooping, reaching, climbing ladders, cutting wire, and lifting materials weighing up to 70 pounds. • Operate and maneuver warehouse equipment, including, but not limited to, pallet jacks, forklifts, and push carts, in the manner necessary to move materials and consistent with manufacturers' instructions and safety instructions. • Work in a warehouse environment, including the ability to perform physical requirements, adapt to seasonal changes, significant temperature variations, and inclement weather conditions. • Abide by safety instructions and use of Personal Protective Equipment (PPE) or its equivalent is required. • High school diploma or GED required • Four-year degree preferred
Knowledge, Skills, Abilities: Knowledge
• Knowledge of warehouse layout, operations, and procedures • Strong knowledge of the WMS process • Must be a Super User of the WMS process and fully capable of teaching all aspects of system utilization
Skills
• Leadership skills • Organizational skills and time management skills • Mathematical skills • Strong oral and written communication and presentation skills • Computer skills
Abilities
• Effectively supervise staff and achieve results through others • Use the WMS system features to improve accuracy and efficiency of all assigned processes • Perform physical requirements
Working Conditions: * * Warehouse environment. May be some exposure to dust, heat or cold, and other seasonal changes. Some travel required.
EOE Minorities/Females/Protected Veterans/Disabled Click the link to view your equal employment rights (EEO Is the Law) -http://www1.eeoc.gov/employers/upload/eeoc_self_print_poster.pdf
Title: Warehouse Supervisor
Location: Massachusetts-Taunton