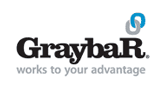 Job Information
Graybar

Material Handler - Part Time

in

Taunton

,

Massachusetts
Graybar is looking for talented, enthusiastic people to help us maintain the highest levels of customer satisfaction in every area of our business. We are a Company that recognizes talent and provides the opportunity for training and development for your career growth.
Purpose Receive, store, select, pack, and ship warehouse inventory utilizing Warehouse Management System (WMS) procedures. * *Schedule Monday - Thursday: 12 p.m. - 4:00 p.m. Friday: 12 p.m. - 3:00 p.m.
Perform any and all physical requirements necessary to lift and move inventory around the warehouse.
Operate and maneuver warehouse equipment and any material(s) contained thereon in the manner consistent with the intended purpose of the equipment and the manufacturers' instructions.
Maintain the warehouse in an orderly and clean state; follow all Company safety procedures; perform daily safety inspections.
Receive incoming material in accordance with WMS processes, accurately identify and break down the material, note discrepancies, and make the product ready for storage.
Store product in accordance with WMS processes.
Accurately select, check, and pack UPS orders following designated WMS processes for packing, weighing, manifesting, palletizing, and loading.
Select and process non-UPS orders through WMS, and pack to make ready to withstand transport; safely meet carrier pickup schedules.
Select, pack, and palletize replenishment shipments following WMS procedures for handling and marking pallets.
Handle stock tickets, and pack cross-dock shipments in accordance with established WMS procedures.
Sort and pack Less Than Truckload (LTL) shipments in accordance with established WMS procedures.
Conduct cycle counts and bin location verifications; consolidate inventory as needed; follow established WMS procedures for handling stock discrepancies.
Other duties as assigned.
Experience, Educational, and Physical Requirements Minimum * Minimum of 1 year of experience required: Prior warehouse experience. * Ability to perform the physical requirements necessary to receive, pick, pack, ship, and move materials throughout the warehouse, including, but not limited to, standing, walking, bending, twisting, stooping, reaching, climbing ladders, cutting wire, and lifting materials weighing up to 70 pounds. * Ability to operate and maneuver warehouse equipment, including, but not limited to, pallet jacks, forklifts, and push carts, in the manner necessary to move materials and consistent with manufacturers' instructions and safety instructions. * Ability to work in a warehouse environment, including the ability to perform physical requirements, adapt to seasonal changes, significant temperature variations, and inclement weather conditions. * Ability to abide by safety instruction and use of Personal Protective Equipment (PPE) or its equivalent is required. Preferred
• 2-3 years of experience preferred: prior warehouse experience • High school diploma or GED preferred
Knowledge, Skills, Abilities Knowledge
• Knowledge of WMS process in assigned area
Skills
• Reading skills • Mathematical skills
Abilities
• Ability to be thorough and accurate • Ability to perform physical requirements
Working Conditions Warehouse environment. May be some exposure to dust, heat or cold, and other seasonal changes. Comfortable with working at heights up to 30 feet.
CRITICAL PHYSICAL DEMAND SUMMARY **
Materials Handling
Non-Materials Handling
Lift 1-35 lbs.
Continuously
Standing
Continuously
Lift 36-50 lbs.
Rarely
Walking
Frequently
Lift 51-75 lbs.
Rarely
Sitting
Frequently
Lifting Greater than 75 lbs.
N/A
Forward Bending Sitting
N/A
Carrying 1-10 lbs.
Occasionally
Cervical Extension
Occasionally
Carrying 11-35 lbs.
Rarely
Elevated Work
N/A
Carrying Greater than 35 lbs.
N/A
Hand Coordination
Continuously
Pushing
Frequently
Rotation Sitting
Occasionally
Pulling
Frequently
Rotation Standing
Occasionally
Grip Force
Occasionally
Stair Climbing
Frequently
Pinch Force
N/A
Step Ladders
N/A
Foot Controls
Frequently
Vertical Ladders
N/A
Low Work
Rarely
Repetitive Squatting
N/A
Balance
N/A
Crawling
N/A
Frequency Key Rarely 1-5% of the day Occasionally 6-33% of the day Frequently 34-66% of the day Continuously 67 % of the day
This job description is intended to describe the general nature and level of work performed by individuals occupying this position of employment. It is not intended to be construed as an exhaustive list of all duties, responsibilities, and skill required of all individuals assigned to this job title. Management reserves the right to modify all or part of this job description at its discretion in order to meet location requirements, staffing levels, and/or any other needs of the business. While this job description is intended to apply to all of the Company's locations across the country, job duties may vary considerably based upon the unique needs of the branch, zone, or distribution center. All of the essential functions of the job, as defined by the Americans with Disabilities Act and/or equivalent state law, may not have been described. All requests for reasonable accommodation(s) will be reviewed and evaluated on a case-by-case basis.
EOE Minorities/Females/Protected Veterans/Disabled Click the link to view your equal employment rights (EEO Is the Law) -http://www1.eeoc.gov/employers/upload/eeoc_self_print_poster.pdf
Title: Material Handler - Part Time
Location: Massachusetts-Taunton