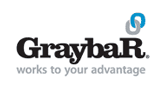 Job Information
Graybar

Material Handler

in

Sterling

,

Virginia
Salary: $15.25/hour
Hours: 10:00 AM - 7:00 PM, Monday- Friday *Work to YOUR Advantage!
You'd love to work at Graybar: * We offer paid vacations, paid holidays off, and work Mon – Fri. Working weekends in our world is a rare exception – not the rule! Also, we do not work overnight!
What Else Will You Love About Graybar:
•We are employee owned and that changes the way we think of our employees and the way our employees think of business decisions. •Many employees move up to become leads, managers, or into roles in sales or customer service.
•We have over 250 locations in the US. If you want or need to move you can look for a job within Graybar.
Employee will receive, store, select, pack and ship inventory utilizing the Warehouse Management System (WMS). Must be comfortable at heights up to 30 feet.
PLEASE NOTE: The last bus at the closest bus stop picks up before the end of this shift.
More than a job – a career.
Join our team, and you might wind up in unexpected places. Graybar is looking for a Zone/Service Center Warehouse Material Handler in Sterling, VA. You will ensure our warehouse is a smooth operating machine and that our products get where they need to be. In this role, you will receive, store, select, pack, and ship warehouse inventory. Our Zone utilizes a Warehouse Management System so technology is required to perform this job.
* In this role you will:

Operate warehouse equipment such as pallet jacks, forklifts and push carts
Receive and store incoming material in accordance with warehouse management system process
Select, pack and palletize shipments
Sort and pack less-than-truckload shipments, conduct cycle counts
Maintain clean warehouse including following all safety procedures and performing daily safety inspections
What you bring to the table: * Can perform physical requirements in a warehouse environment including lifting up to 70 lbs., cutting wire, climbing ladders and staying on the move in various temperatures, depending on the location * Safely operate warehouse equipment and proper use of PPE * Good attendance and work ethic * Can perform tasks quickly and accurately * Minimum of 18 years of age required
About Graybar ** Graybar is a leading North American distributor of electrical, communications and data networking products and a provider of supply chain management and logistics solutions. Come see why Graybar is continually ranked as a top employer across the country.
As an employee-owned company, our employees are the key to our success. We provide comprehensive benefits and opportunities for learning and development. Whether you are just starting your career or have years of experience, you will be proud to work for a thriving company with a solid foundation.
* As a full-time employee of Graybar, you will have access to a wide variety of benefits & advantages.
Benefits Include: * Medical Insurance & Prescription Drug * Dental Insurance * Vision Plan * Life insurance * Flexible Spending Accounts * Disability Benefits * Profit Sharing Plan * 401(k) Savings Plan * Paid vacation and holidays Learning & Development Opportunities: * Online e-learning courses and interactive webinars * On-the-job education and classroom training * Educational Reimbursement Employee Ownership: * Eligible employees and qualified retirees may purchase our stock when it is offered under, and only in accordance with, our stock purchase plan
*This is your chance to grow your career with Graybar. Apply now and find out what's next for you. *
EOE Minorities/Females/Protected Veterans/Disabled Click the link to view your equal employment rights (EEO Is the Law)http://www1.eeoc.gov/employers/upload/eeoc_self_print_poster.pdf
Title: Material Handler
Location: Virginia-Sterling