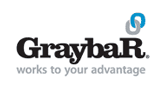 Job Information
Graybar

Services Sales Trainee

in

Seattle

,

Washington
Now's your chance to move your career in a new direction – upward.
Graybar, one of the largest employee-owned companies in North America, has an opening for a Services Sales Trainee in Renton, WA. As a Sales Trainee, you will learn the electrical and telecommunications distribution business through the Graybar services platform. Formal training sessions, hands-on learning, and onsite service implementations will be your path to a successful sales career. Our Services Sales Trainees focused on immediate support of sales growth and customer relationship development. They will also receive specialized training in e-Business, all variations of Vendor Managed Inventory, and onsite services Graybar offers. * *
In this role you will:
Learn Graybar's E-Business sales and distribution process
Develop product knowledge of electrical, communications and security equipment
Learn and Develop Onsite Services development and implementation

Grow Inventory Management and Logistics Service Sales What you bring to the table:

Highly effective interpersonal and communication skills

1 years' of working experience in a customer facing role; mobile phone, car or retail specialty sales preferred
2 or 4 year degree preferred

Ability to work effectively with customers and have a strong sales drive

Responsibilities

Develop an understanding of Company professional sales process.
Develop an understanding of warehouse fundamentals including shipping, receiving, and inventory management and counter sales.
Learn responsibilities of the customer service and sales positions.
Develop product knowledge, and demonstrate training and presentation skills.
Develop an understanding of quotations processes.
Develop understanding of the importance of continued improvement process.
Requirements * No experience required * Four-year degree preferred
Knowledge, Skills, Abilities Knowledge * Knowledge of the distribution industry * Knowledge of professional sales process Skills * Oral and written communication skills Abilities * Ability to work effectively with customers
Working Conditions Office environment.
This job description is intended to describe the general nature and level of work performed by individuals occupying this position of employment. It is not intended to be construed as an exhaustive list of all duties, responsibilities, and skill required of all individuals assigned to this job title. Management reserves the right to modify all or part of this job description at its discretion in order to meet location requirements, staffing levels, and/or any other needs of the business. All of the essential functions of the job, as defined by the Americans with Disabilities Act and/or equivalent state law, may not have been described. All requests for reasonable accommodation(s) will be reviewed and evaluated on a case-by-case basis. * *
Title: Services Sales Trainee
Location: Washington-Seattle