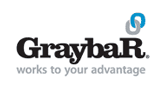 Graybar

Delivery Driver

in

Rochester

,

Minnesota
Graybar is looking for talented, enthusiastic people to help us maintain the highest levels of customer satisfaction in every area of our business. We are a Company that recognizes talent and provides the opportunity for training and development for your career growth.
Purpose Transport materials to customers.
Safely drive truck or van to transport materials within specified area; verify loads against shipping papers; obtain signed receipts for material delivered.

Scan each delivery into system to create and print the Graybar Truck Manifest before leaving the warehouse; maintain truck log according to state and federal regulations.

Determine best route for effective delivery of product that will satisfy customers' expectations of a timely delivery; record delivery information through Xora software application; inspect truck equipment and supplies as required, and immediately report any deficiencies to ensure safe operation.

Perform any and all physical requirements necessary to lift and move inventory around the warehouse, as well as load and unload trucks.

Operate and maneuver warehouse equipment and any material(s) contained thereon in the manner consistent with the intended purpose of the equipment and the manufacturers' instructions; follow all Company safety procedures.

May perform Material Handler responsibilities when not engaged in primary responsibilities.

Promote and maintain good customer relations; may promote new sales as opportunities arise.

Take an active role in communicating customer feedback to Company management, including customer complaints, requests, returns, performance, competitive information, and potential opportunities.

Other duties as assigned
---
Experience, Educational, and Physical Requirements **
Minimum Job Requirements
Minimum of 1 year of experience required : Drives a van or truck weighing equal to or below 26,000 Gross Vehicle Weight (GVW). Experience in material handling and driving a company vehicle.

Employee must possess a valid driver's license issued by his/her state of residence appropriate for the type, class and gross vehicle weight of the Company vehicle to which the employee is assigned.

Ability to pass the DOT Medical Exam and Commercial Motor Vehicle Certification.

Ability to perform the physical requirements necessary to receive, pick, pack, ship, and move materials throughout the warehouse, including, but not limited to, standing, walking, bending, twisting, stooping, reaching, climbing ladders, cutting wire, and lifting materials weighing up to 70 pounds.

Ability to operate and maneuver warehouse equipment, including, but not limited to, pallet jacks, forklifts, and push carts, in the manner necessary to move materials and consistent with manufacturers' instructions and safety instructions.

Ability to work in a warehouse environment, including the ability to perform physical requirements, adapt to seasonal changes, significant temperature variations, and inclement weather conditions.

Ability to abide by safety instruction and use of Personal Protective Equipment (PPE) or its equivalent is required.
Preferred Job Requirements
High school diploma or GED preferred
Knowledge, Skills, Abilities
Knowledge
Knowledge of material handling

Knowledge of DOT regulations

Knowledge of safe and proper loading procedures

Knowledge of city traffic and locations to help determine most efficient routes

Knowledge of the procedures for securing the type of cargo in the motor vehicle being driven
Skills
Reading and mathematical skills

Customer service skills

Oral and written communication skills
Abilities
Ability to successfully complete all Company training designed to comply with regulatory requirements.

Ability to drive a van or truck weighing equal to or below 26,000 Gross Vehicle Weight (GVW)

o Moderate mechanical aptitude

o Ability to drive in adverse weather or road conditions

o Ability to safely operate required vehicles by successfully adhering to the Company road test requirements

o Ability to maintain a safe driving record

Ability to perform physical requirements

Ability to communicate effectively with the general public and customers, including offering information, answering questions, and taking orders
Working Conditions
Exposure to various, road, traffic and inclement weather conditions while driving Company vehicle.

Warehouse environment. May be some exposure to dust, heat or cold, and other seasonal changes.
EOE Minorities/Females/Protected Veterans/Disabled Click the link to view your equal employment rights (EEO Is the Law) -http://www1.eeoc.gov/employers/upload/eeoc_self_print_poster.pdf
Title: Delivery Driver
Location: Minnesota-Rochester