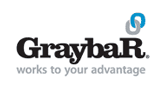 Job Information
Graybar

Branch Administrator

in

Minneapolis

,

Minnesota
Graybar is looking for talented, enthusiastic people to help us maintain the highest levels of customer satisfaction in every area of our business. We are a Company that recognizes talent and provides the opportunity for training and development for your career growth.
Purpose * Perform administrative and clerical activities, and assist with the resolution of local service issues.
Responsibilities * Complete administrative tasks including job lot billing to customers, scanning/faxing orders and quotations, and providing proofs of delivery (POD) as required. * Process customer credits and deductions and investigate/track their causes; investigate and resolve LIV workflows, and coordinate the generation and clearing of daily/weekly/monthly reports. * File documents and mail, maintain tax certificate files, back up receptionist, and manage Company records. * Participate in Quality Improvement Teams in an effort to limit rework, streamline administrative functions, and enhance the service effort within the location. * Key and approve daily transactions including but not limited to returns to suppliers, returns from customers, miscellaneous billings and credits. * Participate in annual inventory and closing work, as directed. Review and approve reports in accordance with
Requirements Minimum Job Requirements * No experience required * High school diploma or GED required
Preferred Job Requirements * Six months to one year of related experience preferred
Knowledge, Skills, Abilities Knowledge * Knowledge of the Company's administrative and service functions * Knowledge of computer systems * Knowledge of Company customer markets and of local stock products Skills * Data entry and organizational skills Abilities * Ability to interface with all levels of employees and management * Ability to work well other employees
Working Conditions Office and/or warehouse environment as required.
This job description is intended to describe the general nature and level of work performed by individuals occupying this position of employment. It is not intended to be construed as an exhaustive list of all duties, responsibilities, and skill required of all individuals assigned to this job title. Management reserves the right to modify all or part of this job description at its discretion in order to meet location requirements, staffing levels, and/or any other needs of the business. All of the essential functions of the job, as defined by the Americans with Disabilities Act and/or equivalent state law, may not have been described. All requests for reasonable accommodation(s) will be reviewed and evaluated on a case-by-case basis.
Title: Branch Administrator
Location: Minnesota-Minneapolis