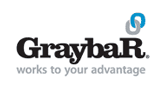 Job Information
Graybar

Sales Trainee

in

Hawthorne

,

New York
Now's your chance to begin your career!
If you are looking for a great place to start your career, look no further. Graybar, one of the largest employee-owned companies in North America, has an opening for a Sales Trainee in Hudson Valley, NY. As a Sales Trainee, you will learn the electrical distribution business and Graybar's sales process through a mix of formal training sessions and hands-on learning. Our Sales Trainees are exposed to all areas of our business and are given the opportunity to receive specialized training and are provided a great overview of our industry before transitioning into a sales role.
Ideal position for recent college graduates. * *
In this role you will: * Learn Graybar's sales and distribution process * Develop product knowledge of electrical, communications and security equipment * Rotate through different areas of the business: sales, logistics, customer service, transactional and project processes
What you bring to the table: * High energy and willingness to learn * Can work independently and within a team * Highly effective interpersonal and communication skills * Applicable internships * Exposure to customer service, sales, retail, construction, real-estate, logistics, landscaping a plus * Four-year degree preferred * * About Graybar ** Graybar is a leading North American distributor of electrical, communications and data networking products and a provider of supply chain management and logistics solutions. Come see why Graybar is continually ranked as a top employer across the country.
As an employee-owned company, our employees are the key to our success. We provide comprehensive benefits and opportunities for learning and development. Whether you are just starting your career or have years of experience, you will be proud to work for a thriving company with a solid foundation.
As a full-time employee of Graybar, you will have access to a wide variety of benefits & advantages. ** Benefits Include: * Medical Insurance & Prescription Drug * Dental Insurance * Vision Plan * Life insurance * Flexible Spending Accounts * Disability Benefits * Profit Sharing Plan * 401(k) Savings Plan * Paid vacation and holidays Learning & Development Opportunities: * Online e-learning courses and interactive webinars * On-the-job education and classroom training * National training conferences and networking opportunities * Educational Reimbursement Employee Ownership: * Eligible employees and qualified retirees may purchase our stock when it is offered under, and only in accordance with, our stock purchase plan * * *This is your chance to grow your career with Graybar. Apply now and find out what is next for you. *
EOE Minorities/Females/Protected Veterans/Disabled Click the link to view your equal employment rights (EEO Is the Law)http://www1.eeoc.gov/employers/upload/eeoc_self_print_poster.pdf
Title: Sales Trainee
Location: New York-Hawthorne