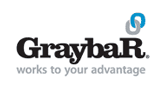 Job Information
Graybar

Warehouse and Counter Operations Lead

in

Des Moines

,

Iowa
Make a difference.
As a Warehouse and Counter Operations Lead, you will lead employees and direct the work of warehouse and customer counter operations, including managing stocking requirements, security, and customer service functions for these areas.
Shift will be: Full-time, Monday - Friday, hours may vary upon business needs, no weekends, paid holidays.
Pay will be: $29.00 per hour - more based on experience.
In this role you will:
Lead and perform activities of employees engaged in shipping, receiving, customer counter, and inventory maintenance duties.

Oversee the prompt handling of customer service requests including but not limited to order entry, pricing, expediting, billing, and order maintenance.

May perform counter sales responsibilities, including the selling of goods, services and making recommendations.

Evaluate inventory requirements/levels and ensure the correct balance of merchandise is maintained at all times

Recommend stock items, evaluate and approve items eliminated from stock, reduce or eliminate overstock and/or obsolete equipment.

Perform any physical requirements necessary to lift and move inventory around the warehouse.

Operate and maneuver warehouse equipment and any material(s) contained thereon in the manner consistent with the intended purpose of the equipment and the manufacturers' instructions.

Maintain security of merchandise and equipment and ensure safe working conditions.

Train staff on Company products and applications, as well as warehouse and security procedures.

Assist in implementing best practices and continuous improvement initiatives designed to improve quality, efficiency, and/or service levels.

May drive van or light truck to deliver customer orders or may direct others to do so as needed.
What you bring to the table:
3 years of experience in warehouse, counter sales, and/or customer service

4+ years of experience preferred, including experience leading a team

Four-year degree preferred

Experience with warehouse procedures and security regulations

Knowledge of product lines and suppliers

Leadership and interpersonal skills with the ability to train and motivate others

Computer, administrative and organizational skills

Oral and written communication skills

Customer service and selling skills

Problem solving and conflict resolution skills

Strong ability to work with customers at the retail level, evaluate and recommend products that meet customer needs, and handle a variety of situations to meet or exceed customer expectations

Ability to work cooperatively with branch personnel on issues, concerns, and opportunities.
Physical qualifications:
Perform physical requirements of a material handler or similar warehouse position

Perform the physical requirements necessary to receive, pick, pack, ship, and move materials throughout the warehouse, including, but not limited to, standing, walking, bending, twisting, stooping, reaching, climbing ladders, cutting wire, and lifting materials weighing up to 70 pounds

Operate and maneuver warehouse equipment, including, but not limited to, pallet jacks, forklifts, and push carts, in the manner necessary to move materials and consistent with manufacturers' instructions and safety instructions

Work in a warehouse environment, including the ability to perform physical requirements, adapt to seasonal changes, significant temperature variations, and inclement weather conditions

Abide by safety instruction and use of personal protective equipment (PPE) or its equivalent is required

Meet driving requirements indicated on delivery driver job description is required whenever the individual is assigned to operate a company-required vehicle and/or whenever circumstances require that material handlers at the applicable location can operate a company vehicle to cover emergencies, absences, or other business needs
Why should you join Graybar?
At Graybar, our employees are the heart and soul of our company. We believe that employees with diverse perspectives bring the ideas and innovative thinking we need to solve our biggest challenges and compete in an ever-changing world. Consistent with our values, we welcome people from all backgrounds, cultures and experiences into our company because we believe it's the right thing to do and the right way to run our business.
We want each of our employees to know that they matter and to feel a sense of belonging, ownership and inclusion at Graybar. We believe that everyone should be treated with dignity and respect, and we work to build a collaborative environment where our employees have the opportunity to grow, learn and make a difference, both as individuals and as part of the team.
That's what our employee ownership culture is all about: working as one team and moving forward together, while honoring the unique value each person brings to our company.
Apply now and find out what's next for you.
At Graybar, we are known for our comprehensive benefits and our employee stock ownership plan! As a full-time employee of Graybar, you will accrue THREE weeks of vacation during your first 12 months, and will have access to a wide variety of our benefits. Benefits include: Medical Insurance and Prescription Drug, Dental Insurance, Vision Plan, Life Insurance, Flexible Spending Accounts, Disability Benefits, Profit Sharing Plan, 401(k) Savings Plan, Paid Vacation, Sick Days and Holidays, Employee Recognition Program
Equal Opportunity Employer/Vet/Disabled
Not the right fit? Let us know you're interested in a future opportunity by clicking Introduce Yourself in the top-right corner of the page or create an account to set up email alerts as new job postings become available that meet your interest!