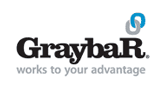 Job Information
Graybar

Financial Assistant - Denver,CO

in

Denver

,

Colorado
Graybar is looking for talented, enthusiastic people to help us maintain the highest levels of customer satisfaction in every area of our business. We are a Company that recognizes talent and provides the opportunity for training and development for your career growth.
Purpose * Assist in attaining the objectives of the Financial Department consistent with sound credit evaluation, safety, and control as described in Best Practices.
Responsibilities * Handle customer accounts as assigned by Director Finance, Area Financial Manager, or Financial Manager. * Obtain credit information, reports, and other necessary information to effectively evaluate prospective customers. * Handle routine correspondence, telephone calls, form letters, etc. * Set up files and secure necessary job information; obtain approvals on job information from Financial Manager. * Maintain current collection, credit, and job file; safeguard records according to record retention policies. * Initiate account setup as directed by Financial Manager, Area Financial Manager, or Director Finance. * Assist in collection efforts by phone, in person, or through correspondence; maintain notes as required in SAP.
Requirements Minimum Job Requirements * Minimum of 3 years of experience required: Service in the Financial Department or equivalent background or experience * High school diploma or GED required
Preferred Job Requirements * 4-5 years of experience preferred: Work experience at Graybar or in a related industry * Four-year degree preferred: Degree in a business-related field
Knowledge, Skills, Abilities Knowledge * Knowledge of Best Practices (Company policy), including credit and collection policies, authority limits, and departmental routines * Knowledge and thorough understanding of SAP as it applies to customer master, credit, and collections Skills * Mathematical skills * Customer service skills * Computer skills Abilities * Ability to absorb and retain details, to communicate persuasively and effectively * Ability to deal professionally with everyone, even in difficult circumstances * Ability to organize work area; maintenance of files and notation of key conversations with customers in SAP * Ability to function with minimal supervision
Working Conditions Traditional office environment.
This job description is intended to describe the general nature and level of work performed by individuals occupying this position of employment. It is not intended to be construed as an exhaustive list of all duties, responsibilities, and skill required of all individuals assigned to this job title. Management reserves the right to modify all or part of this job description at its discretion in order to meet location requirements, staffing levels, and/or any other needs of the business. All of the essential functions of the job, as defined by the Americans with Disabilities Act and/or equivalent state law, may not have been described. All requests for reasonable accommodation(s) will be reviewed and evaluated on a case-by-case basis.
Title: Financial Assistant - Denver,CO
Location: Colorado-Denver