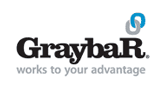 Job Information
Graybar
Supervisor Customer Service

in

Clearwater

,

Florida
Graybar is looking for talented, enthusiastic people to help us maintain the highest levels of customer satisfaction in every area of our business. We are a Company that recognizes talent and provides the opportunity for training and development for your career growth.
Purpose * Coordinate and supervise Customer Service Department to ensure that customers receive the best service possible consistent with good business practice.
Responsibilities * Determine department work procedures, prepare schedules, and expedite workflow of purchase orders. * Issue written and oral instructions. * Assign duties and review work. * Assist and train Customer Service Representatives. * Recommend transfers, promotions, increases, and terminations. * Maintain good supplier relations.
Requirements Minimum Job Requirements * Minimum of 1 year of experience required: Entry level supervisory position for an individual with some operations experience * High school diploma or GED required
Preferred Job Requirements * Additional specialized customer service training preferred * Two-year degree preferred
Knowledge, Skills, Abilities Knowledge * Knowledge of Company's products and services * Knowledge of Company's policies and operational procedures and processes * Knowledge of Company's internal and external quality goals and standards * Knowledge of SAP * Knowledge of Microsoft Office Suite Skills * Supervisory and leadership skills * Computer skills * Oral and written communication skills Abilities * Ability to train and instruct in both group setting and one-on-one * Ability to handle customer complaints and mediate customer disputes * Ability to achieve results through others
Working Conditions Traditional office environment.
This job description is intended to describe the general nature and level of work performed by individuals occupying this position of employment. It is not intended to be construed as an exhaustive list of all duties, responsibilities, and skill required of all individuals assigned to this job title. Management reserves the right to modify all or part of this job description at its discretion in order to meet location requirements, staffing levels, and/or any other needs of the business. All of the essential functions of the job, as defined by the Americans with Disabilities Act and/or equivalent state law, may not have been described. All requests for reasonable accommodation(s) will be reviewed and evaluated on a case-by-case basis.
Title: Supervisor Customer Service
Location: Florida-Clearwater